We all seem to be finishing at once now....saw a few great looking ones on the AY thread, gotta get them up here, too.
So here's mine pre-blocking. I think I ended up doing 3 extra repeats--almost did 4, but was afraid I would run out of yarn. I might have made it, but better safe than sorry, right? It was roughly 20 in x 38 in.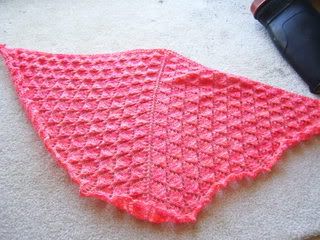 And while blocking, stretched to about 26x57 (I almost feel it could stretch just a wee bit more, but I think this is good!):
And the obligatory close-up of the pattern/colours:
This has been fun, and I probably will knit one again--although not right away. I have my Ivy to finish, and I also just got the pattern for Swallowtail, so that will be by next lace project.